Computerized Ecg Machine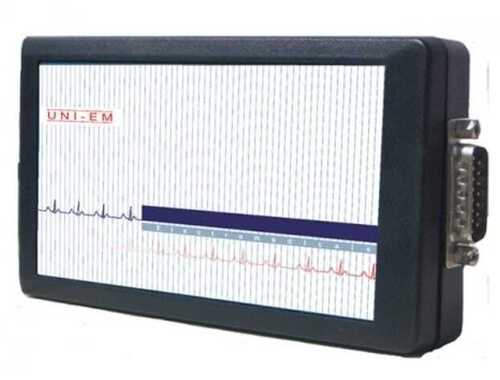 Computerized Ecg Machine
Product Description
Our company manufactures ECG Machines in accordance with the requirements of various medical associations. Using these machines, a specialist can produce reports of multiple patients at the same time as needed, anytime and anywhere, as per their needs. With our computerized ECG machine, patients will be discharged earlier because the monitoring process will be easier and more effective.
Using Bluetooth, the ECG Module transmits data to the mobile phone, which then forwards it via WHATSAPP, GMAIL, or any other messaging service. A computer monitor can provide a real-time view of the data or an analysis tool can be used for analyzing purposes.
mECG Software allows a specialist to examine and analyze the stored ECG data thoroughly by importing the ECG data in our proprietary format. Analyses reports can be emailed to patients immediately after they are completed. A monitoring view allows you to monitor several patients at once. This view can display the patient's heart rate, and self-interpretation will indicate any problems detected and help decide what to do.
(Software forPC Based Interpretative ECG Analysis)
Analysis of 20 second ECG data of 12 leads.
Comments Interpretable.
Storage of 4000 Patient Data.
Provision for Magnifying any lead average with measurements.
Option of Printing Raw ECG, Raw ECG (Sequential), Linked Median ECG, Mixed ECG, Full Disclosure, Measurements.
Provision of super-imposing the average ECG on Previous conducted test of same patient.
Contact Us
303, M. U. Chambers, Opposite Anupam Theatre, Near Railway Station,, Mumbai, Maharashtra, 400063, India
Phone :+918037301257